LiveWall LW802 high-impact small aperture speaker. Sold in eaches.
PRODUCT DESCRIPTION
---
The LW802 is the first high-impact, full-range small aperture speaker that doesn't need a subwoofer. Unique Tru-Flush grilles are a designer's dream: no ceiling shadows, no unsightly seam lines. Paintable and virtually invisible. Performance Plenty of output, with bass to 35 Hz, and wide dispersion means a single pair of LW802's will fill a medium sized (20' x 15') room with rich, smooth distributed audio. Construction We build the LW802 in our shop in San Diego. All aluminum construction is plenum rated. Adjustable integrated metal brackets fit most ceilings. Installation only requires 2 trips: 1. Install the cabinet pre drywall. 2. Place the 4" flush magnetic Tru-Flush grille after mudding.
---
RESOURCES
---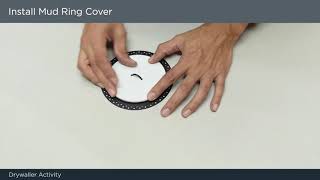 Installation Video Download -- LW802 Worksheet Download -- LW802 Installation Guide
---
SPECS
---
Placement Ceilings, deep walls, soffits. The LW802 is weather-resistant, and can be placed in environmental extremes, including saunas and outdoors. Maximum Output 107dB each, with 150w of amplification Near-Field Response 38-20,000 Hz 6dB Downpoint 32 Hz Nominal Coverage Angle 160º radial Sensitivity [1w (2.83 V) at 1m] 92 dB Nominal Impedance 8 ohms Drive Units High frequencies: 2" fully sealed poly cone driver Low frequencies: 8" aluminum-frame high-excursion bass unit in a ported bandpass enclosure. Construction Welded aluminum cabinet and integrated mounting system, MJF components, MJF magnetic grille. Weight 34 pounds Dimensions (LxWxD) 26 x 13 x 8"
---
ADDITIONAL IMAGES
---
Shown with mud-ring and round Tru-Flush grille.
Shown iin ceiling. Round Tru-Flush grille virtually melts into the ciling.
---
---